Berliners herald exit of Allied forces from 'island of freedom'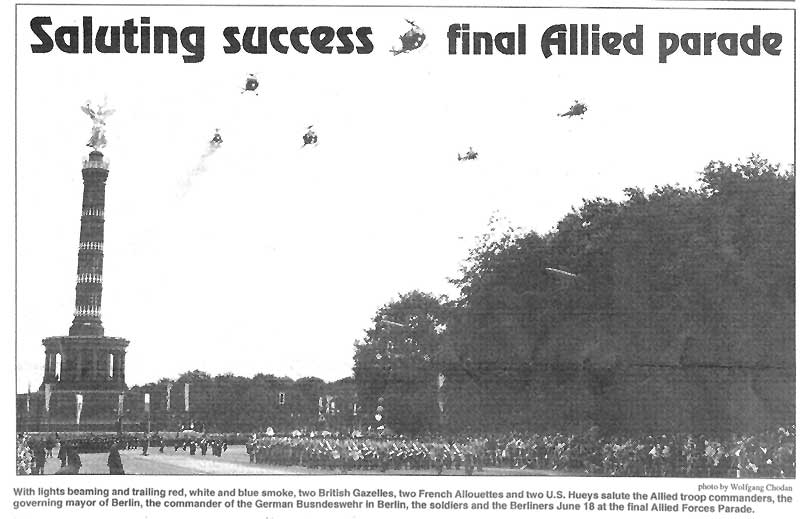 Seventy-five thousand Berliners, many jostling in the eight-row-deep lines for a glimpse of their American, French and British friends, saluted the Allied troops June 18 one last time before their departure from the city after 49 years. The crowd was as contemplative as it was festive watching the 1,950 troops parade down 17 Juni Strasse under cover of a persistent drizzle. Celebration mixed with sadness at the event honoring three generations of soldiers who came, saw and conquered Berlin. The came in 1945 as occupiers, they saw Berlin through the blockade and turbulent wall years, and they conquered the hearts of most Berliners along the way. Few spectators were unsentimental about the final, precision parade, the first since 1989. It was doubly poignant for older Berlin- ers, who remembered the taste of bread, vegetables, fruits and candy bars airlifted during that harsh winter of 1948 - 49.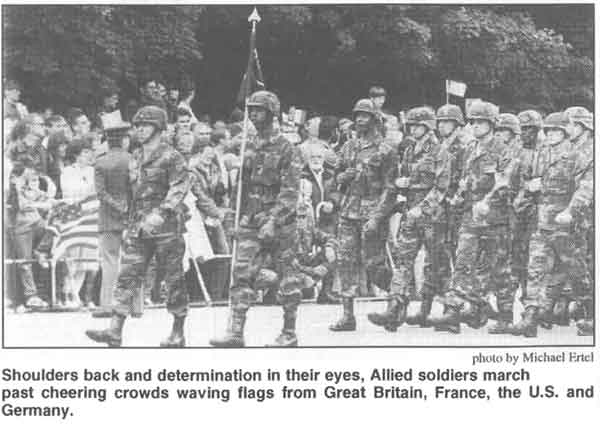 "Without your commitment there would have been no free Berlin, no Four Power status and probably no German reunification," Ebergard Diepgen, governing mayor of Berlin, said to the troops and their countrymen. "It is at the express desire of the Berliners that this parade is being held today. It shows how much Berliners value this tradition. "Since the time when the wall was built, Allied Forces Day has been part of the city's rhythm of life," Diepgen said. "The annual parade of the Allied protecting powers was an un mistakable signal. In this determination to live on and be free, the city was able to rely on determined assistance against all attack sand harassment.