Cubs take 2nd in Class B Track
On a rain-soaked and wind-swept field at Nuremberg the Berlin American High School track team placed sixth overall in a field of 23 schools at the USDESEA track finals held Saturday. Berlin's total of 15 points was good enough for second place in class B competition. Mike Chaney won the pole vault at 11-feet-3-inches for Berlin's only victory. Steve Daley placed third in the 400-meter dash. The mile relay team, consisting of Steve Webb, Curt Fulte, Chaney and Daley finished third to add to the Berlin point total. Ray Holmes, who was nosed out in the qualifying heat for the 180-yard low hurdles, nevertheless established a new Berlin American High School Record at :21.6.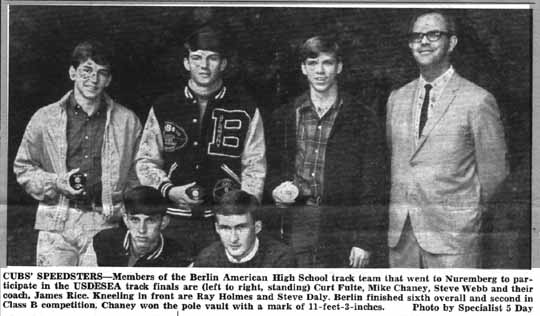 The Cub's soccer team defeated Karlsruhe 5-0 and wound up the season tied with Bitburg for first place in the Red Division League. Their season record stands at 5-1-1. Jim Wheeler pulled off a hattrick at Karlsruhe, getting three goals and an assist. Mike Stingel also netted an assist in the victory. After the game the Entire team was praised by Coach Heller for their outstanding play.