Braves Football Coaching Staff Selected
In our major sports it is necessary to think several months ahead of the opening date, to formulate plans and start the ball rolling to a successful season. So it is with the Berlin Braves 1967 football edition. The team will be piloted by a veteran coaching staff headed by Head Coach Sandy Sandlin, Chief Assistant Coach Mike Davis, Backfield Coach Donald Veazey and Line Coach Richard Munk. The four have a vast amount of gridiron experience behind them. Sandlin has been participating as a coach and player on the gridiron since 1939, and has studied under some of the great coaches in today's coaching profession, including "Bear" Bryant, Duffy Daugherty, Bud Wilkinson and Paul Dietzel. Coach Sandlin has prior experience as head mentor of a division-level Army team and a regimental team in the Far East, and was line coach for last year's Braves football team. Berlin's line was considered to be one the best in Europe. Sandlin also has playing experience with one stint with a professional team. Since entering the Army in 1947 he has been selected to seven All-Far East squads, Four All-Europe squads and has been honorable mention on All-Army teams. In his first tour in the Divided City in 1959, he was elected to the league coaches' all-star team as captain. Sandlin repeated the performance in 1960 and was additionally elected to the All-Army squad after being instrumental in leading Berlin to an undefeated season.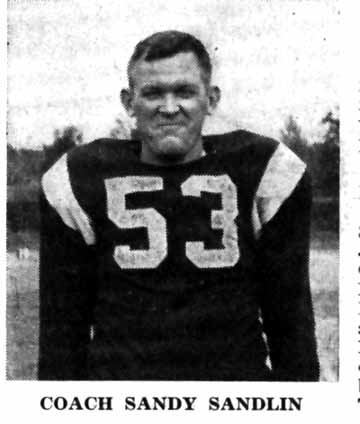 Player-coach Mike Davis played ball with the University of Utah four years and served for a year as assistant coach before entering the Army in 1965. Davis' ability as a player has been outstanding. On last years squad, he was shifted to a position that was new for him, but quickly developed into one of the best quarterbacks in the league. On defense Davis was somewhat of a phenomenon as a defensive halfback and was selected to the All-USAFE squad. Davis also doubled as the backfield coach. Donald Veazy has football experience with Lackland Air Force Base and prior to entering the service, with New Mexico State University. Veazey will head the backfield and with his prior experience should be a valuable asset to the coaching staff. Richard Munk, who will also be listed as player-coach, played college football with the University of Wisconsin. While playing with Wisconsin, he played in the 1963 Rose Bowl game. The Berlin offense will operate out of a split-T formation with split ends, Flanker men in motion and a full backfield, and will concentrate on timing and speed. The defense alignment will be basically the same as last year's squad, that type utilized by Alabama and Utah. This year's team will have more of the Alabama type offense and defense which indicates that they will be quick, alert and aggressive. The Braves have an outstanding crop of veterans who should return from last years squad, including All-League center Clarence Dean, Davis, All-League defensive end Randy Rendon, honorable mention All-League guard John Holt and tackle Chuck Pilcher. Others expected to return from last year are defensive lineman Tom Zender, "Fire Plug" Miller, Bill Sweeny, "Golden Boy" Sertin, James Krivonak, Ralph Vitali, Ben Conrad, Holloway "That-away" Moore, Lucien Young, Nate Wood, Frank Letoile, kicker Mike Henderson, Bob Routt, Jim Feaster and Pete O'Leary. Two promising newcomers are Richard Munk and Bobby Frazier, who quarterbacked at Tennessee State University.